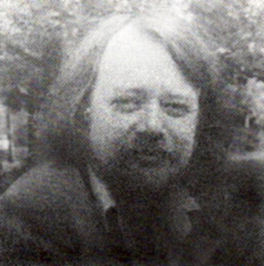 A week before the 1982 Ley Hunters Moot, Paul Devereux was interviewed by QuickSilver Messenger. After the interview he dashed off to an ASSAP meeting and then drove up to Cambridge for the opening night of the Ancient Landscapes touring exhibition. This is a fairly typical timetable for Mr. Devereux when he's in circulation. He teaches 3 days a week at one of London's comprehensives and then teaches evening classes in earth mysteries. He lives in North Wales. He's the editor of The Ley Hunter, the initiator of The Dragon Project (of which he wrote about in QsM 4), the author of The Ley Hunter's Companion (with Ian Thomson) and of a forthcoming book 'Earth Lights' together with Paul McCartney. He's also an artist of some repute. The interview covers a wide range of subjects as well as acting as a preview of 'Earth Lights'. Paul talks about_his strange experience that first brought him into the subject area, the difficulties that an editor has to face when trying to reconcile the scientific with the mystical, the dangers posed to the subject by extremist politics, the threat of the phallic bomb to the earth mother .....and much more!
QsM.: How did you first become interested in the UFO phenomenon and Earth Mysteries?
P.D.: Yes, well I got interested in E.M. before it existed as an entity of research. But it was my 1967 UFO sighting (I suppose you'd call it) in Bromley, Kent in May, when I was a last year student at Ravensbourne College of Art. I, along with about a dozen or so other people saw this rather curious arial phenomena. It was a rectangle of light that came from the north over Bromley and the college and stopped a few hundred feet in the air. It was a perfect rectangle like a door. It was glowing brilliant orange. People came out on to the carpark below us. We were on the top floor of the building. It was about p.m. The sun was still up in the sky and it was quite clear. We were looking at this thing that made everyone thunderstruck. Nobody could speak. Then this beautiful regular rectangle broke down. It started churning within itself, like a little cloud, but very active, glowing orange. Then it reconstructed itself again into another shape - the shape of a human figure with its arms outstretched but without any features.
I saw it as an angelic type of figure with hair and robes flowing and other people saw it as Leonado's Universal Man. It was a very similar image that everybody got.
I don't know how long it was there - perhaps a minute or two, it seemed like forever. At this point I got really quite concerned. It was so outside everyday experience. To be seeing it in ordinary waking consciousness with other people seeing it : it really made you wonder about the nature of Reality. You started questioning it. And I thought, "Am I having some incredible complex hallucination?". The hallucination including the college and everyone around me .. All sorts of fundamental philosophical doubts swept in. I backed away from the window and this thing collapsed again. This time it didn't continue churning, it just faded away. 15 minutes later you could see a rosy smudge in the sky where it had been. The fact that people half way up the building and we, on the top floor, had seen it, and that it was still partly visible 15 minutes later, left me in no doubt that it was an objective phenomenon. There's no question about it.
However, 5 or 6 years later I went to a seminar run by Keith Critchlow where he was talking about geometry around us in everyday life. He happened to mention that a door was basically a root 5 rectangle. He said that the reason that it is that form is because the human form is primarily a root 5 system, and the door is made to admit that form. I suddenly realised that this door shaped rectangle which turned into a universal man type figure was an objective phenomena in the sky and yet, at the same time, it was expressing an archetype. And that's what made me dissatisfied with every theory on UFO's that came up.
Anyway, after that experience I started reading up on UFO's: because somebody the next day said,"Hey! you saw a UFO, Oh why didn't I see it?- I hadn't thought of it being a UFO, to me it was a sort of Biblical thing, you know. So, I started going up to Watkin's Bookshop and hanging around in Portobello Road - the usual scene in those days.
QsM.: And you hadn't been into that before?
P.D.: I mean I'd vaguely been interested in UFO's but I'd never done anything constructive about it. I certainly was prepared to believe in them before but I didn't think too much about it, to tell you the truth. After this I was left with 2 options: either I forgot all about it, completely repressed it, or I had to do something about it. You can't just live with the thing, you know. I wanted to find out how that could have happened, that thing. So we were hanging around the bookshops All you could get at that time was American material on UFO's, Major Keyhoe and that sort of thing. I couldn't relate this machinery from outer space with the thing that we'd seen.
A few months later we were coming back from hanging an exhibition in Norwich. It was a lovely sunny afternoon and we were driving back to London. I was in the back seat of this VW and the passenger in front of me and myself suddenly saw this black round thing. I don't know if it was flat, round, a hole or what it was. It was pitch black and yet the sun was streaming everywhere. There was no reflection off it and it was pacing the car at field distance and tree hight. We were both looking at it and suddenly it disappeared. It appeared a second later about a half a mile away. Then it just zoomed off into the glare of the sun. At that moment we both yelled out "UFO". The guy who was driving, a Norwegian geezer, screamed to a halt and went sideways down the road. He was really angry we hadn't told him. We just couldn't speak. To see something disappear, man, you see it on the T.V. but when you .... And this is what on-witnesses don't understand: when you actually see a UFO you are not prepared for it. You cannot put it into a cosmology. It's not a film. It should be a film but it's not, and it leaves a trauma. It's conceptual rape: there's no doubt about that. It leaves a shock. When you see things disappear, man, you don't know what to do. You've seen it in the framework of mundane reality and it really does leave you some pretty horrific conceptual problems: how to cope with it? Anyway, this went on and I was constantly reading. About this time MICHELL's 'FLYING SAUCER VISION' came out and the title really grabbed me. He was the first UFO writer who began putting things into a broader context. It was in this book that I learned about ALFRED WATKINS and so on and the ley theory. It was such an important book. I don't think John thinks too much of that book now, and compared with the research and what is produced today it looks perhaps a little weak. But at its time it was a very important book. as was the subsequent 'VIEW OVER ATLANTIS' which was very important. Anyway, this began to get me into this curious area. I wanted to find out more about leys and things. I had an intuition that there was a connection between the earth and this sort of phenomena, and here it was being stated by someone else.
The ley theory, at the time, was one of orthotenies: the straight line of sightings that AIME MICHELL had come up with (UFO sightings) being the same as leys. The late TONY WEDD put that together. It was a simplistic idea of UFO's following leys on. the ground from one ley marker to another: which is daft really. I mean, it's an ex-R.A.F. pilot's wet dream, that's what it was. But the point was the connection had been made. That was what was important. I started taking 'FLYING SAUCER REVIEW', because I really wanted to get into this thing. And one day I saw in the classified ads "THE LEY HUNTER, write to PAUL SCREETON, 5, Egton blah, blah, blah, and so I subscribed. I think each issue was 1s.4d. in those days. This was in '69 and 'VIEW OVER ATLANTIS' had came out- an absolute stormer. I got it the day it appeared in Watkins Bookshop. I sat down and just read it. Two things struck me: I'd never seen such a well produced book, and I'd never seen one so cheap that was well produced. I'd never read anything like it. It was just stunning.
So I used to get SCREETON'S LEY HUNTER. I used to live for it. Amidst the drab daily rounds to get the old duplicated LEY HUNTER was something else, you know. That's how I got into it. Then in the mid 1970's I got into this research project in Leicestershire with ANDY YORK. I think it was the first time anybody had done this applying geology, folklore, ancients, anomolous phenomena and UFO'S and putting them all together to see if there were patterns. This took us on and off three years.
QsM.: Will this be coming out in your new book?
P.D.: In 'EARTH LIGHTS'? Well, er, yes. I could never get the Leicestershire material published, you know. The publishers said it was too local.
QsM.: Yes I know that one.
P.D.: But I put it to Thames and Hudson. There's an editor there called James Hughes. They took three months to decide not to publish the material. He wanted to see me so I went up and had a chat and had a meal. He said, "Let's do a book on leys pure and simple even though you can't use this Leicester material." So it led to us producing the 'COMPANION'. And in this book 'EARTH L1GHTS' I've got half a chapter of the Leicestershire material in it. Now its put in a larger context and so it means more. A lot of that stuff will never be published, I suppose.
Qsm.: 'THE LEY HUNTER'S COHPANION' brought out the precision element in 1ey hunting. How important do you think this is and how far do you think it went in making more popular the precision element in ley hunting and getting rid of the 2 point· alignments?
P.D.: (laughing) Yeah! I don't know. It would be presumptuous of me to judge. But what became c1ear to me shortly after I'd taken over from PAUL SCREETON on the magazine, was that there was a lot of woolliness about. This was leading to a complete schism between the sceptics and the enthusiasts. So it seemed to me that we really had to put some research together. What appalled me was that I had this vague notion that there were teams of people working on leys all over the country. What it really was, was Joe Bloggs up in wherever, plonking away with a big fat pencil 'till he got bored and then went off down the pub. This was the level it was at. Really the only work that had been done was Watkins and his co-researchers back in the '20's and early '30's, and Michell's important 'OLD STONES AT LANDS END' - that was the first serious alignment study. I just felt that there was this terrible gap. But the trouble with all of us is that we just don't have the resources of time or money or equipment to do the research required.
Getting to do a book is one way of getting these resources. So we used the advance Thames and Hudson gave us to spend on a lot of petrol to get around the country and hundreds of pounds worth of maps. So then we could do a real study. It became obvious that you couldn't do a proper study of England, Wales and Scotland in one book so. we stuck with England.
The first thing that sunk in with me and IAN THOMSON (who worked with me on the book) was that there weren't as many leys as people thought. People say, "It's dead easy to line up this, that and the other". But it isn't. That's just a pure, fat lie. It's difficult. to line things up. But we began to find certain parts of the country where we could do it quite easily. There were 3 or 4 serious alignments per map sheet, perhaps. on some, you couldn't find anything. You could make an alignment but it was 20 miles long and it was a couple of churches and a tumulus or something like this. It was not very satisfactory stretching across the map sheet. The first thing we realised was the old '60's idea of there being vast nationwide alignments wasn't on. The Great Isosceles Triangle over Britain with its apex at Arbour Low and great 200 mile leys stretching down to Othery St. Michael, or where ever it was... nobody had actually done that work. Nobody had plotted it or taken into account earth curvature or anything like that. They were ideas not lines on the ground. Even Miche11's Great St. Michael's Ley, which is probably the archetypal ley, is 300 miles long. It's a mile or two wide: if you plot the whole thing. But there are parts, through Glastonbury and round there, where you can get a tight alignment. You can't run it from Marazion to Lowestoft and keep it as a narrow line. Anything over 20 or 30 miles you begin to get earth curvature prob1ems and you've got to compute the thing after that. So it's no good just plotting on a small scale map. All this became apparent as we worked.
My feeling is that leys have their own distribution like chambered tombs or stone circles. It's a prehistoric remnant and occurs in some parts more than others. It's not just a lack of potential 1ey markers. There are certain places where you can't line the bloody things up. If I did the 'COMPANION' again it would be a different book. There are perhaps 20 of the 40 odd leys there that I'd take out - I'm not terribly happy with them. But we had a publisher to get a nice spread over the country and to include famous places. They had to think of selling the book. It's either that or nothing. It was the only way we were going to do the research so off we went.
In the middle of all this we came to the dreaded question of statistics and how statistical is a straight line. All the Furness Formulae had going on before that was saying' far beyond chance'. So basically we had two lots of statisticians: we had Chris Hutton-Squire and Pat Gadsby of UNDERCURRENTS MAGAZINE who started computer simulations of Lands End and comparing them with Michell's alignments there. There were also the map statisticians like Bob Forest and Michael Behrend. Eventually, they came up with Behrend's strip alignment formulae, which is apparently the best tool for analysing the statistical characteristics of a line on a map. Both these methods produced leys that were above chance. They also produced a lot of alignments that didn't break the chance barrier. And of course, in the Gadsby/Hutton Squire work there was a hint that there was some deliberate misalignment too; which was something that I'd rather suspected from the work we were doing. I'm still arguing the status of that with Bob Forest even now. They definitely have leys that are valid at the 1% level: good statistics. However, they then say, "But these good leys may only be chance effects dealing with all the thousands of leys that exist". Well, it's true that you can get thousands of alignments if you pump everything into a computor and it'll work out millions of three-point alignments. But if you really work out what constitutes a ley, as something that hangs together, and then you go out into the field - like we did the Coldrun Ley (?), by the time we'd done it we'd found tunnel legends linking places, where it crossed the River Medway there used to be an old paved ford- it used to be the Pilgrim's path : there was all this stuff we'd never known before. You know when you've got a ley. It's a remnant of the past. The statistics can't take that in. There are whole areas of things that people don't take into account. Keith Critchlow showed this in 'TIME STANDS STILL' that the Neolithic people could produce geometry.
QsM.: How important is it to get the statisticians 'seal of approval' on a ley line, then?
P.D. Well, now we come to all sorts of problems. In a way I don't think it's that important. In another way I think it is. I think that what the 'COMPANION' has done is that it's started a dialogue with archaeologists. We did start getting Atkinson in writing, I think that's proved important. Though nothing tangible has come from it yet. it has changed the mood.
Now we get people like Aubrey Burl in say the April edition of 'POPULAR ARCHEOLOGY', and in letters to Michell and myself, admitting that one of the alignments in the 'COMPANION' - The Devil's Arrows - (he went up there and checked it himself) is there. He said, "It's O.K. as long as we call them alignments : we must never call them leys". So you've got this incredible conceptual problem that we may never get over. I think we're very close now (probably in the next few years) to a limited acceptance of a limited alignment from prehistory.
But then you get the book that'a just come out by Barnatt 'PREHISTORIC CONWALL'. In it he says it makes you wonder what all the fuss was about. Quite. Precisely. But it's OK saying that now. There has been the fuss. The fact that people laid out straight lines in the past is a mystery that we just don't understand and that's why it's important. We know that they did it in Peru and Bolivia. We know that Feng Shui was a system that avoided straight lines. In all these cultures the story is that spirits pass along the lines. I think they are spirit lines, what we need to know is what the spirit is.
At one level we don't need statisticians, and at another we do. It's just an ongoing dialogue. What annoys me is the inherent subjectivity of the people who say that they themselves are objective. Bob Forrest is a very honest man. First of all he was challenging me to produce leys that pass statistical tests. We did. (we didn't produce hundreds because I haven't got the resources to spend my life doing research. There's no doubt that if I had we could produce a steady stream. We did just that while we were producing the 'COMPANION'.). Then when they get the leys that pass the statistical tests they acquiesce for a year or two and then the old scepticism comes back. They say maybe the good leys we've got are just chance phenomena. You cannot win. There are two camps: there's the gullible who'll believe anything, fairies floating in UFO's down two point leys on the one hand. On the other hand, you've got sceptics who wont really believe anything even when you present them with the evidence they require. They circumvent the evidence in their own minds and return to their scepticism. They have a need for scepticism like some people have a need to believe. It's the same phenomenon. It's the other side of the same coin. I think the objective ley hunting has to steer a bruising course between the two extremes.
QsM.: I think one of the greatest trends of the Earth Mysteries movement and one of the most important things to me is it's being free of dogma and ideology. Do you think that there is a danger that the research that's been done in the last years and is continuing could be used to further certain ideological and dogmatic stances as was be case in Nazi Germany?
P.D.: Yes, well, this is a very interesting question. You could see all this at the Leyhunter's Moot- the one thing is- and I became aware of it from the masses of correspondence that the magazine somehow manages to generate every week- that Ley­hunters cover all social groups and all age groups and all political views. It's a place where people don't bring politics in- we don't do this sort of thing. At least that's the way it was and I think it's what was an appeal to lot of people. You could talk with some old Major about it and so on and it was all fine. The hippie, the scientist, the dowser and the physicist would be cheek by jowl and it was good news. But there's no doubt- I mean Nigel Pennick's recent book; "Hitler's Secret Sciences" clearly underlines the fact that in Nazi Germany­ pre-Nazi Germany- what went into that curious amalgam that produced the second World War was this interest in just what we call Earth Mysteries. It was dowsing the search for an earth force, alignments, heilige linien, it was holy Hinterland : it was all the very stuff we're into now. And some­how that got worked into this curious Nazi cosmology. And we're in the most disastrous phase in Britain at the moment because we're turning extremely right wing. The people aren't. the people are absolutely placid, but their manipulators are pulling the rug out from underneath everybody's feet. Britain now is not the country you and I knew in our teens when we were younger, but it's something else. It's not really been subtle but it seems to have happened slowly over a period of time. But the last few years have seen a change in the whole nation. And I'm getting exchange magazines now produced by Nazis-Fascists I should say. They're offering 10% reduction to the Police and Armed Forces- saying Auschwitz never really happened. They're producing articles showing that Arian blood is superior to Jewish blood. They're talking about leylines- it's all deeply in it. People like Tony Roberts have been approached by the National Front- he was one of their heroes- Tony Roberts was on the street as a long-haired leftie- fighting in the streets back in the 60s. We're in a very curious phase- and there's no doubt that this material- this Earth Mysteries stuff- can- would fuel a new sort of Fascism. I mean I'm not a Fascist-I'm anything but- I'm the other end of the political spectrum if anything. But I'm aware of this danger and I'm just afraid it could be used in a dogmatic way, as a result of which it'll be repressed for another generation, ultimately.
At the moment we are living in an extreme right wing society. We are turning Britain into a Third World Country where there's going to be 80% peasants and 20% technocratic elite. They're trying to stop communication. Can you afford to use your telephone? Who can afford petrol? Even though we produce it ourselves. The attack on the British people to turn them into a certain type of unit that certain types of political minds can use is overt. But we're held in a strangle grip by the press particularly. People think T.V. is the danger, it's not. It's the daily press that keeps millions of minds fed with certain ideals. We've seen it over the Falklands. (never mind the rights or the wrongs of the Falklands) it's the mood that could be generated so quickly that's dangerous. People that before you could have a drink with and never thought they had a nationalistic thought in their heads became very nationalistic overnight. The potential for something like Nazi Germany (perhaps at not such an extreme level) is here now in this country and I've never seen it in my life before. So yes, the answer is yes.
QsM.: The Dragon Project - why is it important to have this synthesis of approach from scientists and mystics?
P.D: I think this is important. First of all I should say about the DRAGON PROJECT. We got it together as a concept in late 1978, practical work went ahead about a year after that. It was important first of all because of all this rumour and counter rumour about earth energies. So we had folklore, we had the dowsers, the mystics, and odd bits of scientific stuff coming through saying that there were curious forces at ancient sites. So this needed sorting out. At the same time the value of earth mysteries, and that's what I prefer to talk about, E.M., rather than ley hunting because ley hunting is one component in a broad spectrum of new thought. E.H. is a cauldron of thinking. It's the Cauldron of Ceridwen. I'm sure that It's the old cauldron of inspiration. The value of the project is that we are using both functions of the mind : both the analytical and the intuitive. The problem is that you can't win, whenever you happen to be concentrating on the analytical side the intuitive types attack, and vice versa. I sometimes get poison pen letters.
QsM.: Do you?
P.D.: I do yeah. Even from people who should know me a lot better. They saY, "You're getting all scientific" and all the rest of it. And then sometimes I go a bit intuitive. In TLH I sometimes try to play one thing off against the other. Sometimes it's perhaps a fairly technical issue and fairly analytical. Then sometimes, like the next issue we're doing, it's all Morris Dancing and more the folky aspect. You've got to play these two aspects off because these two aspects exist in the human being, and in human society. Our overall society is analytical and so you can understand why a lot of people react against science and react against analysis. They come to E.M. as a sort of refuge from that. Then they get very uptight when they find there's people talking mathematics and science there as well as the other, the folklore, the intuitive, dowsing and getting the vibes. The trick is, (it's a juggling act), the trick is to keep the balance between the two aspects of the mind. The DRAGON PROJECT, whatever its successes and failures turn out in any tangible form, it's one success is that I've seen over 30 people at a stone circle and you've got your vibing hippy types at one end wandering around at one end with their twigs dowsing and you've got your scientists with their headphones on and little bleeping lights measuring stuff and people putting probes in the ground. Sometimes we'll have a massive breakfast, if the wonderful Anne and Roy Cooper (the local anchor persons at Roll Right) take us all back for breakfast. Once it was the most exciting breakfast I've ever had in my life. We'd all been their since the early hours of the morning and it was now 9 in the morning. We'd done a days work. We were all cold and a bit tired. And the babble of cross fertilization: everybody was getting along with everybody else. Just to see that: I mean I sat back and observed it for a while and it was a wonderful sight. You can't get a scientist and some hippy type dowser or what ever together like that. It just worked and the thing is they are all bringing out a new view of the earth, and that's what's important.
One of the things I'm going to be pushing at this years MOOT is that it's time we had a WHOLE EARTH CONFERENCE where we get the Green Peace, the CND, the Earth Mysteries. We want to get everybody together because the earth is becoming conscious of itself. It's GAIA. I'm telling you it's now a close run thing whether those left brain elements (NOT left wing but left brain) in human society... if they have their way we'll be constantly at war. We'll have constant economic problems, and eventually, and not SO eventually, we're going to have a nuclear fucking mess on our hands. And the world is going to die.
I reckon the planet is almost like a great whale: that's what I feel about it. And it's becoming conscious of these things. It's got to fight for it's survival. 50 nature doesn't only work through the skin of lizards and the leaves of trees, it also works through the human mind. That's nature as much as a cloud in the sky. So nature is working through the human mind too. The message that's coming through from E.M. is that there's a secret of the earth that we've got to recover. Way back, and I don't mean in the Iron Age and not too much in the Bronze Age - it was disappearing then but perhaps in the Neolithic Age, there was an understanding about the earth. It's the Grail! It's the secret of the earth and that's what's got to be rediscovered now. That's what E.M. is about and that's what the DRAGON PROJECT is specifically about. You've got to be humble. We're attacked. If you take a machine into a site there's a whole group of researchers who are going to complain. IE you just use dowsers then the scientists say, "Well, you're not doing anything scientific". Again in this sphere, as in the ley hunting, you're doing this weird balancing act : running the gauntlet between left brain and right brain and that's what's happening.
The DRAGON PROJECT and E.M. are creating this middle ground of thought because too much science and too much intuition both lead into error. What you've got to do is keep these two horses in harness, it's the only way you'll pull a chariot along. The moment you lose control you'll get one horse pulling one way and one horse pulling the other. It'll end up in a crash. So the DRAGON PROJECT is a practical application of both the intuitive and analytical functions of the mind working together. It's hard going. We don't have enough resources. The 'THRESHOLD FOUNDATION' have helped enormously, they've kept us going. That money is now drying up. We're thrashing about for a bit more money. We don't need much but even to put someone at a stone circle for a week and pay their petrol and perhaps a bit of subsistence costs a lot of money. We're now in a position where we can't do that any more. So we rely on total volunteers. Equipment like er... one piece of equipment.. one we've had to have designed and built for us : even with volunteer help and people cutting prices and so on it still cost a few hundred pounds, you know. With 2 or 3 pieces of equipment it's all gone.
It is important. We've got to find out if there is an unusual energy in the earth, and if there is did the Ancients know about it? and, if they did how did they use it? How did they relate to it? My feelings at the moment, from what we're doing on the DRAGON PROJECT is that there is no unknown energy as such but that there are unknown arrangements of known energies. They are occurring in unusual circumstances and it could be that we may have... I mean, Colin Bloy has talked about the unified field and I wonder if what we're seeing is some curious concatenation of energies, known natural forces that create very unusual spots on the earth's surface. They would have been recognized by the Ancients and in some way enhanced. We don't know but we are finding out certain things.
The geology. The curious arrangements of megaliths with certain geological backgrounds. The association of them with unusual phenomena. This is another thing I should mention. There is no evidence that leys, as actual alignments, are associated with UFO's. People like the idea. It's a nice idea but nobody can actually produce any actual evidence on that. But from the work we're doing on 'EARTH LIGHTS' it does begin to look that at least stone circles and perhaps other kinds of megaliths are maybe associated with parts of the earth's surface where anomalous lights, UFO's are produced more frequently than others. We do think there is some sort o£ connection there. This is one spin off from the DRAGON PROJECT. We're looking at curious Geiger anomalies that we're getting. We've got lots and lots of dowsing data.
Dowsing, I must mention dowsing. We have now dealt with lots of dowsers. John Michell was telling me a couple of weeks ago that he finds it very difficult to get on with dowsers because they're a funny breed of human being. I'm talking about the really dedicated serious dowser. They're all cocksure of themselves. And in the earth mysteries field they contradict themselves like mad. I have now managed to fallout with certain important elements in the BRITISH SOCIETY OF DOWSERS because I've been a bit scathing about some of the people coming along. They are all top people: top dowsers. They are dead good at, finding water or metal or something, they're red hot, or at finding a sunken ship. But they're all coming up with different information on earth energies at sites. John Steel is collecting this stuff and we've got some fabulously detailed dowsing surveys at Rollright. We're not only studying Rollright, we're studying other circles too, but particularly Rollright. They're all different. Some of them are diametrically different one to the other. There are odd places where they agree. They are the things we're looking for, the points of agreement, to see if there is something bubbling through : a common denominator. But dowsers are a nightmare to work with, and they're all dead sure. Every other dowser's wrong, but they all say that, so who do you believe? There is a bloke called Dr. Fiddler is Scotland, who's going to have a book published by Turnstone. I've seen the manuscript and he's the first dowser to say "Right, what is it that we're dowsing?" He's the first guy to have the idea of dowsing what the wavelengths of the energy are. He's dowsed them in the radio wavelengths of the electromagnetic spectrum, which intrigues us because we've been picking up anomalous radio signals at the various stone circle sites.
The Geiger work is interesting. The ultra- sonic work was very interesting to begin with. But there was some talk about some spurious effect in the equipment we'd been using. So it's taken 2 years to redesign so that it'll answer any problems. At this moment that I'm talking it's being field tested. I've heard a word that they've picked up a signal with this equipment. It'll probably be until the end of the year until we know just exactly what we're getting with it... The Geiger stuff is already remarkable. The Kirlean stuff we've been getting at stone circles is breaking new ground, but we don't really have the time or the resources to concentrate on it. So, it's like we've got rows and rows of cans of worms and we've taken the lids off a few and it's taken us all our time to do that. We've recently been criticised, through very unfortunate circumstances, by scientists in America, "Why haven't you tried this ionizer and that low frequency machinery?"; as though we have access to some university's resources, which we don't. All we can do is go along as best as we can. The thing is, we are using dowsing, we're using psychics, and we're using physical monitoring methods. We're coming up with new data and nobody has ever done this before. The DRAGON PROJECT is covering new ground. It's getting closer to the secret of the earth, the grail, and I see the grail as the symbol here. It's also an acting, working prototype of left brain and right brain working together. When we get this mechanism perfect we'll have revelation after revelation.
QsM.: Do you think that the ideas in the E.M. movement have now become so developed that the average man in the street, without being familiar with a basic text like 'VIEW OVER ATLANTIS', really doesn't have an idea of what people like yourself are talking about?
P.D.: Yes, this is a problem. We get new readers to TLH magazine for example who really have only the most basic idea of what it's all about. What we really should be doing is publishing a few primers. I mean real primers. It's a great publishing venture and either we have to convince a publisher to do it (and in the present economic climate that's unlikely) or, between ourselves, those of us who are doing serious work, we have to try to get it together. I just don't see the time resources or the money resources to do it. We're having enough trouble just getting our magazines out aren't we, Chris?
QsM.: Yes, true. Quite so.
[laughter]
P.D.: Yes, so I don't see that happening in the near future. But, yeah, there is a problem, but it's just a problem we're going to have to live with. On the one hand we mustn't let our standards drop because of this problem and on the other hand we've got to try to bring new people in, just to try to keep the information circulating. I suppose there is enough stuff around as long as we can keep directing. You see, and this is a plug but I know it'll be too late by the time this comes out, if people would go to something like TLH MOOT, they would get access to all the publications on the subject. They can talk to people and they can bone up in that way. Yes. There is a bit of a gap developing between the vanguard of the research and the general area.
QsM.: Finally, Paul, the new book 'EARTH LIGHTS' which is going to be published by Turnstone in October, isn't it?
P.D.: That's correct, yes.
QsM.: Er, can you briefly go into what the basic thesis of that book is?
P.D.: Yeah, OK. Well, it's both the very very earliest part of my experiences in the subject that I've already talked about, and really some of the latest research. As I mentioned, when I saw this thing in 1967 the impression that I got was that there were two elements at work : there was an objective geophysical event, but it did turn into a shape and that shape could have only come from the human mind. There's no way that that was produced externally. So quite early on and after doing the work in Leicestershire we began to see connections between fault areas and anomalous meteorological phenomena. The curious events, the curious ice-falls, the fire balls, the huge ball lightnings and so on. They seem to hang around fault areas of the county of Leicestershire. But where the cycle of the atmosphere carried on as normal there were no faults. Where the faults were the process seemed to get bottled up then curious meteorological aberrations were produced from time to time. Brooding on that and brooding on the 1967 Ravensbourne experience, I began to feel that UFO's did not come from outer space. I became increasingly convinced that they were produced by the earth. Now of course, there are earth theories like the 'holes at the poles' and this sort of stuff, which I just can't go along with.
A couple of gears went along after I did the Leicestershire research then I started the DRAGON PROJECT. Then Paul McCartney here came in doing geology on that for us. He then collaborated on the book 'EARTH LIGHTS', because I'm not a geologist. This is what I think is terribly important : to know your limitations as an author. It's no good just boning up on geology or whatever it happens to be. It's much better bringing someone in who already knows everything about it. We've constructed what I think is the best case ever produced to show that UFO's are produced in the earth and that they are discharged by the planet. I've explained this theory to Tony Roberts and he came up with an interesting word or phrase for it. He said, "Planetary ectoplasm" - a typical Robertsian concept. Nevertheless, it's one way of explaining it and we've gone into the geology in great depth. We've sifted masses and masses of eye witness evidence. The thing is you know, and let's forget about about Alpha Centuri and holes in the poles, there are people who have seen UFO's being born. The formation of UFO's are on record. Nobody, as far as I know, in UFOlogy has picked up on this body of data. So we've suggested that UFO's come from the earth and we suggest the mechanism whereby they do. In the course of researching this we found out that Persinger and Lfrenier in Canada had come up with similar theories, very good theories and very little known. But they hadn't quite got the full rigour of the thing. They hadn't quite got it all worked out. Their data base is much weaker than the one we produce (isn't that so Paul?) [to Paul McCartney who has just entered the room] much, much weaker.
QsM.: Would you agree with that, Paul?
PAUL McCARTNEY : Yes, absolutely (clears throat). I think what we have in the British Isles is a laboratory surrounded by the sea. There are more megaliths here than in the whole of western America, we believe, and their data base is based on just several hundred UFO sightings over 3 million square miles. Whereas in England and Wales...
P.D ...same as just Michigan say...
P.Mc.: ...same as just one state. Whereas there are ten times as many megaliths and it er...
P.D.: ...we've got 800 UFO sightings...
P.Mc..: .we have 800 UFO sightings, 500 stone circles and this is the basis of...
P.D.: ...the geology of the country's interesting, isn't it?
P.Mc.: Yes, this is the basis, I feel, of presenting a tight case which will stand up to statistical investigation. Because I don't think any mechanism derived from Persinger and Lefrenier will stand up to any such evidence.
P.D. The beautiful thing about Britain is that its geology is so remarkable. In a very small area we've got just about everything.
P.Mc.: Yeah. The British Isles is a unique geological experience where nearly all the rocks. throughout time are found in various parts of our islands. It is the only unique laboratory in the world for this study. Whereas in North America, it is far more homogeneous. Therefore, it is almost impossible for them to put up what we've put together here. They may make tentative suggestions, but unless they come to the British Isles they can go no further.
P.D.: We have a very good population land surface ratio, don't we? One of the things we do in 'EARTH LIGHTS' is not just to cover the sightings but we've corrected the population distortion factor that you always get. Or, at least we've gone a long way to correcting it. It's not perfect, but it's better than anybody else, I'm sure of that.
QsM.: What is the population distortion factor?
P.D.: Well, if you've got 5000 people per square km. in London and you've got 2 people and a sheep per square km. in Wales; a UFO sighting in Wales is far more valuable than one seen in London. Because simply there are less eyes to see it. So when you want to get an idea of what the UFO incidence over England and and Wales is, you've got to take into account the population. You see, the phenomenon exists only in so far as it's reported. It takes people to report it and therefore the population factor has to be taken into account. So what we've done is we've taken the 1 sq. km. map based on the 1971 census information and we've plotted these 800 UFO sightings in England and Wales that we've selected, and weighted the value of the sightings. So we've ended up with a map that gives a closer idea of where more UFO activity occurs in real terms. In a way, we've produced a symbolical map but it's more accurate than simply putting down the dots. We've put down the dots as well. So, as Paul says, we've this unique geological experience here. We've got very good UFO recording material, we've got the best population to surface to work to. It's just the best lab to work in and we've used that laboratory. We've also got recorded some remarkable UFO zones like in Barmouth in 1904 and 1905 and we've taken this stuff apart as well as analysing all the major theories that anyone has ever put forward. I think that the one type of UFO experience that we do not explain - and we say we don't - are the abduction type. If abductions are real, if people are taken away in real spaceships, then our theories are probably wrong. But they are certainly right as far as some UFO sightings are concerned, anyway. I don't think there has ever been an abduction. As long ago as 1959 C.G.Jung was saying the type of people who say they go up in spaceships are actually giving perfectly historical religious experience accounts. There are crystal cups, there are blond women - virgin types - they're archetypal experiences and one wonders if there are any real spaceships involved in this. I think that's where I go along with the new wave of UFO researchers who really show there is a psychological connection with these experiences. As Jenny Randles says, people who have close encounters experiences, the abductees and so on, are a different type of witness to the others who experience lights and so on.
P.Mc.: I ought to say, if I can come in here, that I don't fully agree with Paul's statement that if abduction cases are real then our case is necessarily wrong. Because we're obviously looking at a different phenomenon, both of which are coined under the term UFO. How do we define a UFO? I think we are looking at a real phenomenon, a phenomenon which comes from the earth which is so rare that nobody before has appreciated that it is an earth light. Whether abduction cases are real or not I don't think we should...
P.D.: ...No, well O.K. I did say in any case we would be explaining some UFO. cases...
P.Mc.: ...a high proportion...
P.D. : ...yeah, most of them. I just feel that. the 'EARTH LIGHTS' case is irrefutable. I think we can definitely show where UFO'S come from. I can't believe that there are also spaceships coming down that also happen to look like earth lights and people getting taken away in them. Basically, what I'm saying is I don't think abductions are what they appear to be. I think they are a religious phenomenon. Sometimes they are just plain lies: we've got to be clear about this. What we also do in the book is that we associate the UFO incidence and the type of geology on which it primarily occurs and it is the same type of geology in which stone circles occur. Statistically it's against chance the way in which megaliths are distributed in this type of geology. We've brought in some new material from France where people have been working at Carnac and getting exactly the same findings. I'm hoping the 'EARTH LIGHTS' book will put the UFOlogical study and the study of megaliths together. The gut feeling has been there for 20 years now and if 'EARTH LIGHTS' can put these two aspects together in a more meaningful and objective way, then it will have achieved a lot.
Finally in the book we do put forward a theory, and this'll be the really controversial bit I think, where we suggest an interaction between the type of energy packet that earth lights is and the human mind. We suggest that the human mind can actually affect this energy packet in certain circumstances. That's the completely new concept in the book. It's for people to make their own mind up. But that's the kind of area that 'EARTH LIGHTS' is covering.
QsM.: So it looks like you started with an archetypal vision in the sky, a UFO we could say. From that experience you got into earth mysteries. From earth mysteries you are working back into the sky and making a synthesis of the two areas.
P.D.: Yes, in fact the last part of the book is called 'Towards a Synthesis' and that's just what it is.
QsM: Thank you both very much.
P.D. and P.Mc.: Thank you.